Click online reservation 24hs.
Hotel Internacional has all the benefits that you require to make your stay in the wonderful downtown of Buenos Aires (also called Capital Federal), as pleasant as possible.
Hotel Internacional Buenos Aires
—— Located in the heart of downtown
The Hotel Internacional is located on the edge of 9 de Julio Avenue, undoubtedly the most important and legendary avenue of our federal capital. Just blocks away from the so-called "City of Buenos Aires". A few meters from the main centers of entertainment that our city offers, the Colon Theater, museums, historic bars, cafes and restaurants, walks along the picturesque Avenida de Mayo and Puerto Madero. Neighbor of the great neighborhood of San Telmo, and of course the symbol of the federal capital, the traditional obelisk.
Phone / Fax:
(54 11) 4334-4949 / 4331-7191 / 4343-5271
Features
Standard Rooms
Breakfast and parking included.
Our Standard rooms will provide you with total comfort, and you will be able to enjoy a wide variety of services offered by our hotel.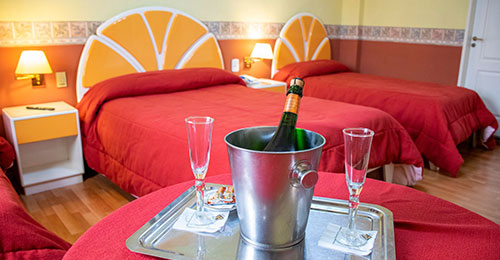 Superior Rooms
Breakfast and parking included.
Our superior rooms are located on the third to sixth floor of the hotel and are accessible by elevator.
You get the best price
We have a total of 61 rooms, 9 of them distributed in apartments and 19 of them are our Superior suites that stand out for their high level of comfort overlooking 9 de Julio Avenue.
INTERNATIONAL HOTEL IN BUENOS AIRES
Services
Among all its amenities, we highlight the integral equipment of its rooms with heating, air conditioning, DDI, DDN, LCD cable TV, Wi-Fi Internet throughout the establishment, and its own parking lot that provides greater security and quick access to your vehicle. The sum of these advantages results in the sensation always sought by our visitors of feeling at home.